Articles Listed By Date List By Popularity
Page 1 of 36 First Back Next 2 3 4 5 6 7 8 9 10 View All
Tuesday, June 28, 2016 (47 comments)








Thoughts on Bottom up as a Form of Intelligence My thinking on bottom up has evolved from a pretty simple idea that involved grassroots and crowd related stuff to the idea that bottom up is a kind of intelligence, just as Howard Gardner has described, in his multiple intelligences model,
Monday, June 27, 2016








Supreme Court Eight Strike Down Texas Abortion Restrictions Texas loses its anti-abortion fight at the Supreme Court.
Sunday, June 26, 2016 (31 comments)








Hillary's DNC Platform Committee People Prove She Lies If Hillary wanted her people to oppose TPP, they would oppose it. It's that simple.
Friday, June 24, 2016 (44 comments)








Progressive Take on Brexit Open Thread What's your take on Brexit? Is it good or bad from a progressive point of view?
Monday, June 20, 2016 (26 comments)








34 Days Before the DNC--Trying to Make Things Happen There are five weeks until the democratic convention and I'm doing all I can to make sure that Hillary Clinton does not become the Democratic candidate.
Friday, June 17, 2016 (15 comments)








DNC Comes Out of Closet-- Goes Public, Handing Reins Over to Clinton Campaign The DNC has allowed Hillary Clinton to replace Debbie Wasserman Schultz as the practical head of the DNC with someone of her choosing, finally coming out of closet, showing their collusion openly.
Thursday, June 16, 2016 (71 comments)








Post Bernie Sanders Video Open Thread Bernie Sanders gave a talk tonight, summing up his positions. After you've watched it, add your comments and assessment of what he said, what he didn't say, what you wish he'd said, what you'd like to see happen next.
Tuesday, June 14, 2016 (14 comments)








MSM Sycophants Coronate The Pretender with a Massive PR Campaign The day before the California primary the Clinton campaign and the DNC, coordinating with the mainstream American media, engaged in a massive Public relations campaign to sell the false message that the campaign was over and Hillary had won. This campaign was unprecedented in the unanimity of the mainstream media's cooperation with the Clinton campaign and DNC's message delivery. The truth is, the primary is not over
Sunday, June 12, 2016 (34 comments)








Berners Praying for Hillary Indictment. The Reasons are.... I'm praying for Hillary to be indicted. I think most, or at least a big percentage of Berners are also praying for the same-- for the system to work, for justice to happen-- justice. That means that the people who are tasked with investigating Hillary's multitude of possible criminal acts must do their job, posthaste, finishing a thorough, comprehensive investigation before the Philly convention. This article explains why
Saturday, June 11, 2016 (15 comments)








Why I've Put Triple Parentheses Around My (((Twitter Name))) It turns out that white supremacist, Aryan American haters are using triple parentheses to identify people they believe are Jews, so they can be targeted for trolling and harassment.
Wednesday, June 8, 2016 (47 comments)








The Defining Difference Between a Liberal and a Progressive It's really simple. A progressive would not support Hillary going into the Democratic convention. Chris Hedges has some wise words about liberals.
Tuesday, June 7, 2016 (13 comments)








"Secret Win" & Multiple Evidence of How Clinton Team Manipulates and Colludes with Media There is evidence that the Clinton campaign has been colluding with the mainstream media.
Saturday, June 4, 2016 (16 comments)








48 Days From CA Primary to Philly Convention; What Could Happen? From June 7 to July 25 there are 48 days. Forty eight days, seven weeks from the California and New Jersey primaries until the first day of the 2016 Democratic Party convention. Forty eight days could be an eternity in terms of possibilities, and reasons why Bernie absolutely MUST stay in the race, no matter how many Hillary surrogates say otherwise.
Monday, May 30, 2016 (35 comments)








Yes, Hillary's Server Was Criminal, And The DNC and Obama Could Use it to Totally Subvert Democracy Attorney and Hillary supporter Dan Metcalfe has written, for the law blog, LawNewz.com, a particularly credible and persuasive article, Hillary Clinton's Emails Now Might Finally Take Her Down, which suggests a nauseating, yet terrifying possibility. It all hinges on FBI Director Comey doing his job, and, most important, when.
Tuesday, May 24, 2016 (3 comments)








Clinton's Poll Result Pattern Bodes Ill for Hillary and Democrats Post Trump's Pygmalionization Here's the rub. Polls have VERY VERY consistently over estimated Hillary's performance in primaries. She has performed worse, a good 90% of the time, than the polls predicted she would.
Wednesday, May 18, 2016 (187 comments)








Superdelegates WILL Switch To Bernie. Here's Why Bernie is going to win the July convention. That's because polls already are and will even more dramatically show that Hillary will lose to Trump, but not just the White House. She will cost the Democrats a majority in the Senate, the Supreme Court and a stronger position in the House.
Wednesday, May 11, 2016 (53 comments)








Debunking Hillary's Specious Winning the Popular Vote Claim The claim that Hillary is winning the popular vote is one of the most deceptive, specious claims the Hillary Clinton campaign and her surrogates are making. The mainstream media is echoing and giving a total pass on this egregiously dishonest claim.
Thursday, May 5, 2016 (17 comments)








Don't Like Hillary? Now That Trump's In, Vote For Bernie #TrumpTrain #TCOT Are you in one of the states which have not voted yet? Do you hate Hillary? You don't have to vote for Donald Trump anymore. He's locked in. You can play a role in keeping Hillary from being on the ballot in November. You can vote for Bernie Sanders.
Tuesday, May 3, 2016 (29 comments)








Indiana Primary Open Thread what are your thoughts on the Indiana primary and on the primary and the candidates in general?
Thursday, April 28, 2016 (115 comments)








Speculating on Bernie Running Third Party, with numbers There's speculation that Bernie might run as a third party candidate, possibly as a Green. Is this a crazy idea? Let's think about this.
Thursday, April 28, 2016 (66 comments)








Open Thread: What's Next For Bernie and His Supporters What are your thoughts on Bernie, his revolution and the primary and general elections. OpEdNews would also like to know what you'd like to see OpEdNews do.
Tuesday, April 26, 2016 (5 comments)








How Bernie Will Accomplish Amazing Things In Spite of a Republican Held House Bernie can get a lot done without the support of the House of Representatives, and it's almost certain that his coattails will help down ticket Senate candidates to take back the senate and reduce the Republican advantage in the House. That means that Bernie will have a majority advantage to get appointees authorized through the Senate.
Sunday, April 24, 2016 (10 comments)








The Mental Health Danger of Supporting Hillary's Can't-Do-Ism Imagine a pop psychology guru whose message was "You can't do it, and that's okay" or "settle for less, that's all you're going to get." Or how about, "set your dreams and goals low, then you won't be disappointed," or, "Be afraid, it'll keep you from getting in trouble." He'd be a guru for losers. But I'd guess that there would be people who are so beaten down in life, or depressed or damaged they might actually embrace
Tuesday, April 19, 2016 (105 comments)








Hold Strong, Keep Up Your Hope For Bernie Tonight was rough. Anything can happen between now and the Philly convention.
Tuesday, April 19, 2016 (4 comments)








Debunking Hillary's Stickiest Memes-- Tried & Tested, and Gets Things Done I debunk some of Hillary's most effective talking points or memes which her surrogates parrot on the mainstream media networks where Hillary is shilled for 24-7. 1- Hillary is tried and tested 2- Hillary gets things done, while Bernie believes in unicorns
Wednesday, April 13, 2016 (27 comments)








Who Should Bernie Pick for VP? There is growing discussion about who should be Bernie Sander's choice for vice president. I have two choices, one obvious the other someone no-one's mentioning, who could be stellar. I discuss possible candidates others have proposed and some I think should be on the table.
Wednesday, April 13, 2016 (1 comments)








First US Senator, Oregon's Jeff Merkley, Endorses Bernie Sanders Oregon Senator Jeff Merkley has become the first US senator to endorse Bernie Sanders.
Saturday, April 9, 2016 (1 comments)








Clinton's Mainstream Media SuperPAC (Hashtag #ClintonMSMSuperPAC) Is Fattening Hillary For Slaughter The dollar value of the unified, almost total support the mainstream media (MSM) are giving to Hillary is comparable to a massive SuperPAC, so call it that. But they're not really for Hillary. She's like a calf being fattened for slaughter. Here's why
Friday, April 8, 2016 (7 comments)








Thinking about Hillary's Experience Some thoughts on Hillary's experience and what it informs us about her qualifications to be president.
Thursday, April 7, 2016 (2 comments)








Video: Bernie Answers An African American Journalist's Question About Reparations for Slavery and the Economic Effects At the Tindley Temple Chapel in Philadelphia, Bernie Sanders replied to an African American journalist's questions about reparations for slavery and the economic effects. He gave a lengthy answer.
Tuesday, April 5, 2016 (5 comments)








Sanders and Cruz Win Big in Wisconsin With 99% of the votes in, Bernie Sanders won, 56.3 to 43.4, a 13% difference. This substantive win will cut Hillary Clinton's lead by about 5%.
Monday, April 4, 2016 (3 comments)








Corey Lewandowsky won't be Trump's Campaign Manager by the End of the GOP Convention I predict Corey Lewandowski will not be Donald Trump's Campaign manager by the end of the GOP convention, probably much sooner. He's already begun the road down, before he's fully out.
Friday, April 1, 2016 (12 comments)








Hillary's Disingenuous Claim That She's Won 2.5 Million More Votes is Bogus. Here's why Hillary claims that she has 2.5 million votes than Bernie Sanders. That claim is deceptive and disingenuous.
Sunday, March 27, 2016 (7 comments)








Bernie's Bird and Avatar's Tree of Life "blessing' Of Jake Sully Bernie's bird reminds me of the Avatar tree of life seeds
Saturday, March 26, 2016 (55 comments)








Consider Clinton's Experience... at Lying, Spycraft, Corruption As Secretary of State and as a neocon resident of the White House for 8 years, Hillary learned a lot about how to corrupt, distort and disrupt-- governments, regimes, media. Certainly Hillary was involved in spycraft that was used to manipulate political outcomes around the world. That's what the CIA does-- usually at the behest of the president. We know that the Clinton presidency was blemished with lies. This is the H
Friday, March 25, 2016 (50 comments)








Bernie Sanders Says What Hillary & the DNC Must Do To Get His Support Cenk Uygur of The Young Turks TYT video had Bernie Sanders on as a guest. Cenk asked Bernie if he would support Hillary if he loses. Bernie replied,
Tuesday, March 22, 2016








Tuesday March 22 AZ, ID, UT Primary Day Open Thread What are your thoughts on today's primaries, on the election season in general?
Sunday, March 20, 2016 (5 comments)








#CanWeAgree ? New Left Hashtags: #HillaryClinton & #BernieSanders Supporters Yes, we are passionate about our candidate. But we are also passionate about important issues that matter. Let's get together on them and make change happen.
Thursday, March 17, 2016 (12 comments)








Trump Is Right Predicting Riots Donald Trump is getting a lot of flack for observing that there might be riots if he goes to the GOP convention with the most votes and then the powers that be give it to someone else. He is being attacked by liberals and conservatives, who complain that he is irresponsible, even dangerous. The truth is, he is right.
Wednesday, March 16, 2016 (204 comments)








Why Hillary Would Lose to Trump, Cruz or Kasich Trump will shift gears and tone down, clean up his bellicosity and re-invent himself for the general election, moving to the center and acting more well-behaved, making him far more tolerable to millions of Bernie supporters and independents. He's already begun doing that. He's a marketing genius and will get twice or more air time than Hillary, just like he did in the primaries.
Monday, March 14, 2016 (5 comments)








The Entertainmentization of Politics It's been a long time in the offing, but the time has fully arrived. Mainstream media coverage of presidential primary politics has been fully turned nto entertainment. Part of this process, a major part, includes major influence of election outcomes by giving more attention and airtime to some candidates. It includes using misleading delegate counts, commissioning misleading polls, omitting results from polls.
Saturday, March 12, 2016 (8 comments)








Trump's Supporters, GOP Supporters-- Authoritarian, Damaged and Dangerous Thoughts on the underlying psychological roots of the anger, violence, fear and hate that Trump and GOP supporters manifest.
Friday, March 11, 2016 (165 comments)








#Chicago #TrumpRally Protest Open Thread This evening, thousands of protesters of all colors, races and creeds came together to disrupt a Donald Trump rally in downtown Chicago. What do you know about it? What do you think about it.
Thursday, March 10, 2016 (4 comments)








Time for Bernie to Go After Obama, but with balance The African American states are a lost cause and mostly behind. It is no longer necessary to walk on eggshells when it comes to criticizing Obama. Bernie should show his anti-establishment credentials by giving balanced critiques of Obama-- one good thing, one bad thing.
Thursday, March 10, 2016 (10 comments)








Humanity, Humor, Humility, Emotional Intelligence Are Essential for Presidential Candidates In times when corporations are treated as people and artificial intelligence is on the verge of becoming "alive," people need a leader who has the heart, the humor, the empathy to "get" what the people are feeling, and the ability to connect with world leaders and political leaders at a level that goes beyond intellectual.
Tuesday, March 8, 2016 (46 comments)








Bernie Sanders Upset Wins 2016 Michigan Primary With one Fox poll predicting a 27% Hillary Clinton landslide, Bernie Sanders brought in a huge, surprise victory tonight.
Sunday, March 6, 2016 (11 comments)








Michigan Sanders/Clinton Debate Open Thread what are your thoughts on the debate.
Saturday, March 5, 2016 (9 comments)








The Brutal Heartlessness of a Billionaire Governor-- Casting Teen Moms and their Babies onto the Streets the reason that I'm having you on is because your organization is going through a pretty traumatic time because it has had its funding cut off, which means that basically you have a lot of single, young, mothers with children who could be out on the streets again.
Friday, March 4, 2016 (1 comments)








Hillary's Newest Black Endorser, Russell Simmons, is A Banker, Being Sued, Investigated Ultra wealthy Hip Hop tycoon Russell Simmons is a banker who profits off the poor. He just endorsed Hillary Clinton. It'll probably influence young blacks. It should. It should make them realize that Hillary is sneaky and devious but even among blacks, she's working with the rich and powerful.
Thursday, March 3, 2016 (113 comments)








Blame the DNC if Serious percentage of Bernie Sanders Supporters Will Not Back Hillary Clinton Don't Assume Bernie Sanders Supporters Will Back Hillary Clinton If She's The Nominee. The DNC has poisoned the well, especially for the next generation.
Wednesday, March 2, 2016 (9 comments)








Democratic Closed Presidential Primaries Hurt Sanders, Help Clinton, Could Cost Dems Election Democrat party insiders may argue that closed primaries make for election purity and prevent antagonistic voters intending to shift the results. But closed primaries could very well lead to short-sighted results that lead to selecting candidates that lose the general election.
Tuesday, March 1, 2016 (5 comments)








The Worlds of Story-- so much bigger than books and movies Story is much bigger than the obvious applications-- storytelling, movies and screenplays, novels and fiction, newspapers, television and magazines. Politics and psychotherapy are all about stories and narrative. A good attorney doesn't talk to a jury without wrapping evidence in story. What would religions and religious services be without stories? Marketing uses stories to engage, touch hearts and sell. Cultures are defined
Tuesday, March 1, 2016 (26 comments)








Super Tuesday Open Thread Here's the place at OpEdNews to discuss Super Tuesday and the election in general
Tuesday, March 1, 2016 (200 comments)








Shame on Elizabeth Warren; She Betrayed Progressives She betrayed progressive Americans. She screwed the middle class. She's certainly lost me as the huge fan I was for years. Remaining silent in times of great hardship, when you can make a difference is a form of cowardice.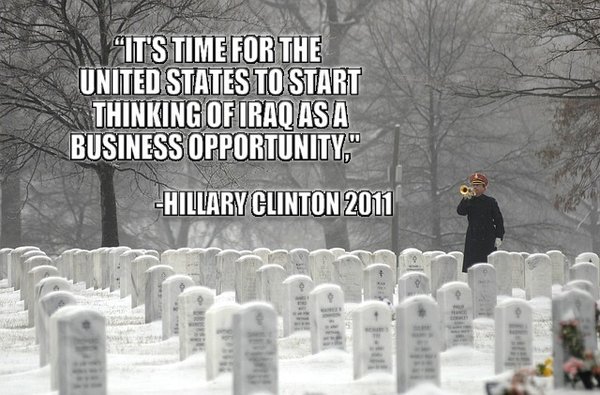 Monday, February 29, 2016 (30 comments)








Hillary Would Be A War President Hillary would be a war president. She has been a war woman her whole career. She voted for the Iraq war. She was a leading influencer in supporting the destruction of Libya. She will be a conflict encourager in the middle east. It's what neocons do.
Sunday, February 28, 2016 (23 comments)








Expect The MSM to Rain A Sh*tstorm of Negativity Down on Bernie Sanders Expect, today, tomorrow and Tuesday, that the MSM will distort Hillary's minor, relatively inconsequential, totally predictable win to be a huge victory, a major step towards winning the primary election.
Thursday, February 25, 2016 (9 comments)








Why You Should Donate NOW To Help Bernie Close the Deal on Super Tuesday, Just Days Away Super Tuesday is next week. It is huge. It could set up the rest of the election for good or bad. If you want Bernie Sanders to be the Democratic presidential candidate he needs all the money he can get now, not in a month or two. Hillary Clinton is receiving millions from billionaires, bankers and their superPACs.
Monday, February 22, 2016 (22 comments)








Mainstream Media Moves In For The Kill Of Bernie Sanders Campaign All the news media are now back to saying Bernie is toast, that he can't win. This is nothing new. This has been the message the mainstream media has been selling HARD for months. Did you expect that they would suddenly embrace a guy who is challenging the whole f*cking system? Did you think that with one tie and one win they wouldn't jump at the soonest opportunity to kick him, to do all they could to demoralize his...
Sunday, February 21, 2016 (3 comments)








White House Replies to Bill Maher WhiteHouse.Gov Petition for Obama to Appear on Bill Maher Show A few weeks ago, Bill Maher opined that President Obama had not yet appeared on his show, that he'd appeared on so many other shows. So he started a White House petition calling for Obama to appear on his show.
Sunday, February 21, 2016 (1 comments)








Video of Bernie Sanders Being Arrested-- Should be used in a campaign video The Sanders campaign should use some version of this video in South Carolina and should use some version of it before Super Tuesday